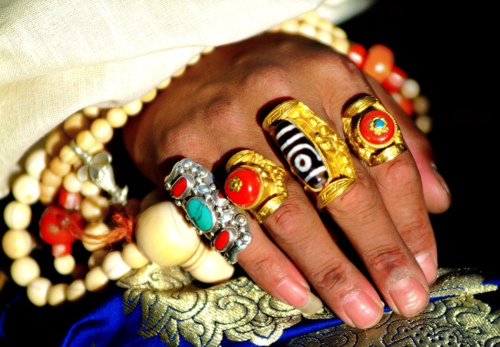 To Tibetans and other Himalayan people, the dZi is a "precious jewel of supernatural orign" with great power to protect its wearer from disaster. The Tibetan people believe dZi beads are spiritual stones fallen from Heaven which bring good karma to those who own them. The ancient Dzi absorbs cosmic energy from the universe. Tibetans generally believe that dZi beads are of divine origin and therefore not created by human hands. Some say they are dropped by the Gods to benefit those who have the good fortune to find them. Since they are believed to have a divine source, they are considered to be a very precious and powerful amulet. Beads can often be seen in Tibetan temples adorning the most revered statues and sacred relics. They are thought to bring good fortune, ward off evil, and protect the wearer from physical harm and illness. It has even been claimed by Tibetan refugees, that they protect the wearer from knife and bullet attacks!
Dzi (pronounced Zee) is a Tibetan word used to describe a patterned, usually agate, of mainly oblong, round, cylindrical or tabular shape pierced lengthwise called Heaven's Bead (tian zhu) in Chinese. The meaning of the Tibetan word "Dzi" translates to "shine, brightness, clearness, splendour". The beads originate in the Tibetan cultural sphere and can command high prices and are difficult to come by. It's said to possess mysterious powers and bring good fortune to the wearer. Ancient and pure dZi beads of Tibet are extremely precious and rare. No matter how many or how few eyes they bear, all dZi beads possess the mystic power of bringing luck, warding off evil, stabilizing blood pressure, guarding against apoplexy and enhancing body strength. Owners and wearers of these beads are blessed with unexpected credit, luck and perfection They are found primarily in Tibet, but also in neighbouring Bhutan, Ladakh and Sikkim. Shepherds and farmers pick them up in the grasslands or while cultivating fields. Because dZi are found in the earth, Tibetans cannot conceive of them as man-made. Since knowledge of the bead is derived from oral traditions, few beads have provoked more controversy concerning their source, method of manufacture and even precise definition. This all contributes to making them the most sought after and collectable beads on earth. The most prized pure dZi, are generally beads with eyes or unusual decorations. A pure dZi may or may not have eyes. It can be opaque or partially translucent (In Tibet, translucent beads are usually valued lower). The most sought after base colour is an opaque dark brown to black.
About three to four thousand years ago, a meteor from Mars crashed into the Himalayas. This led to the 14 different types of Mars elements in Dzi beads, with the element ytterbium possessing the strongest magnetic field. This is what gave rise to the mystic power of Dzi beads. Wearing Dzi beads in the long run can enhance our blood circulation and metabolism. It also improves our quality of sleep, revitalizes our body and balances foreign magnetic fields which may be harmful to us.
Patterns on Dzi beads reflect Brahmanic teaching of ancient India, and are symbolic of the "wulunfajieta" beliefs. Each pattern bears a different meaning. Yet they are somewhat similar to the Taoist beliefs of Yin & Yang and the 5 elements as the fundamentals of life. Hence from the geomancy point of view, Dzi beads can improve one's luck and help to ease problems and worries. The five-element system views the human body as a microcosm of the universe with the tides of energy and emotions waxing and waning. These energies and emotions are stored in the visceral organs and move through specific pathways or meridians in the body in a regular and cyclical fashion.
When these energies or emotions become blocked, or deficient or excessive through stress, trauma or disease, the five-element practitioner may use carefully controlled pressure on certain meridian points to help move the energy or emotions. This restores the natural cycle of energy and emotional movement, thus helping the person's natural ability to heal.
There are five elements that operate to provide balance and structure to not only the world, but also our lives and bodies. These five elements are water, fire, metal, earth and wood. The philosophy behind the five elements and their use for healing purposes is that everything in the world is made up of a combination of them. Due to this interconnectivity, each and everything has certain characteristics that are linked to the elements. We can look at the body and how it ties into the elements and the way it works. The liver and the gall bladder are linked to the wood element, small intestines and the heart are connected to the fire element, spleen and the stomach to the earth, lungs and large intestine to metal and finally kidneys and bladder to the water element.
When a large portion of the bead breaks off the Dzi stone bead is seen as being finished with its work. It is time for the bead to be retired and allowed to rest as its reward for all of the work it has done. To tell whether the bead qualifies to be considered broken, check to see if any portion of the bead's symbols, lines, eyes, etc. have been broken into. If the bead's symbols have been broken it is considered broken. If the symbols are in tact it is considered still viable. The same applies for any crystal or gem stone. Usually the 'broken' stone is returned to the earth. Be grateful and give thanks for the work it has done.
Supply and demand
Due to the unknown origin and high demand of the beads, there has been unquestionable counterfeiting in Asia. Some are replicas created for decorative purposes, and accepted by the general public. In Chinese culture, a necklace is believed to be genuine if it was obtained without monetary exchange, for example from a temple. The other cultural requirement is that one should not request or bribe for it.
The pattern on the Dzi bead may not look exactly the same as in the pictures but will retain its main symbol and representation.
The Tibetan Dzi has been cleansed of negative energy, however it is suggested that