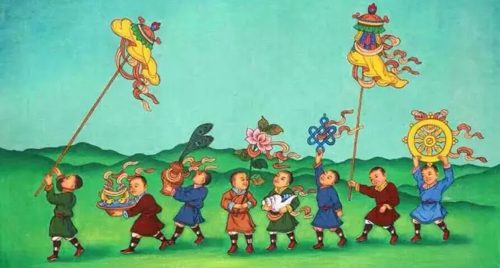 The Eight Auspicious Signs
Translated with commentary by Lama Zopa Rinpoche; paintings of the eight auspicious signs by Gelek Sherpa.
Probably many of us do not know how important these eight auspicious signs are and how they affect our lives. They can be used externally to help with one's own success as well as with the FPMT organization to be successful in benefiting others and working for the teachings of the Buddha. Putting these eight auspicious signs around everywhere, outside and also inside the rooms, makes things very auspicious. It is not necessary to put all eight together, and they don't all need to be in the same place. They can be placed separately at different locations, but you should have all of them.
The eight auspicious signs are the
umbrella
yellow fish
vase
lotus
white conch shell
glorious peu

1

banner
Dharma chakra
Here is the meaning of these eight auspicious signs according to my root guru, His Holiness Trijang Dorje Chang's explanation.2
Wherever these eight auspicious signs exist, there will be the dependent arising of increasing the virtue of auspiciousness.
Colophon: Dictated by Kyabje Lama Zopa Rinpoche to Ven. Sarah Thresher at Root Institute, Bodhgaya, India, February 4, 2014. Edited with the help of Losang Hursthouse.